Welcome to Choosing Coffee Accessories! We provide some of the best coffee accessories to help you make the perfect cup of coffee. Whether you're looking for a coffee machine, a grinder, or a milk frother, we have everything you need to make your coffee experience truly delicious. Our selection of products is carefully sourced from leading brands and is designed to make your morning routine quick and easy. With our extensive range of products, you'll be able to find the perfect coffee accessory to suit your individual needs. So, start your day off right with the perfect cup of coffee – let us help you choose the perfect coffee accessory!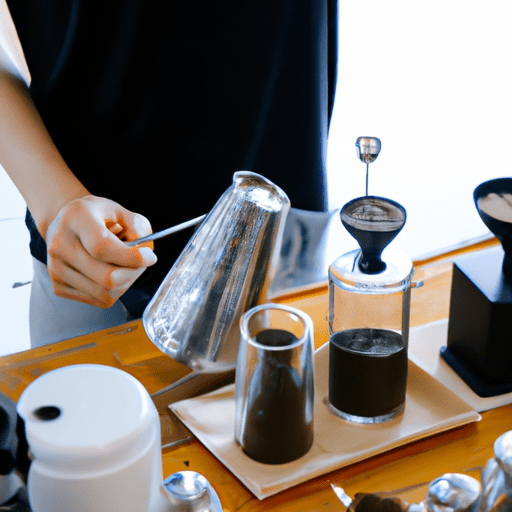 5 Must-Have Accessories for Perfectly Brewed Coffee
Burr Grinder: A burr grinder is essential for a perfect cup of coffee. It evenly grinds your beans, allowing for optimal extraction of flavor. The result is a more consistent cup of coffee with a richer flavor.
Coffee Maker: Whether you prefer a French press, pour-over, or espresso machine, having the right coffee maker is essential for a perfect cup of coffee. Each of these methods requires different grind sizes, so having the right coffee maker for your preferred method is key.
Coffee Scale: A coffee scale lets you measure out your coffee beans for optimal flavor. Coffee scales are precise and easy to use, and they allow you to measure out the perfect amount of coffee for a delicious cup every time.
Pour-Over Kettle: A pour-over kettle is necessary for achieving the perfect temperature when brewing coffee. This type of kettle is designed to heat water to the optimal temperature for coffee extraction, allowing you to achieve the perfect cup every time.
Coffee Timer: A coffee timer is a great way to ensure that your coffee is brewed for the right amount of time. Coffee timers are designed to let you know when your coffee is done brewing, ensuring that you don't over-extract or under-extract your coffee.
How to Choose the Best Coffee Grinder for Your Needs
Choosing the best coffee grinder for your needs can be a daunting task, but with the right information, you can make an informed decision.
First, consider the type of grind you need. If you're using a French press, you'll need a coarser grind than if you're using an espresso machine. Different types of grinders are designed to produce different types of grinds, so be sure to select one that is appropriate for the type of coffee maker you'll be using.
Next, consider the size of the grinder. If you're only grinding enough for one cup of coffee at a time, a smaller model may be sufficient. If you're grinding for a crowd, however, you'll need a larger model.
Also, consider the noise level. If you're looking for a grinder for use in a quiet environment, such as a home office, look for one with a low noise rating.
Finally, consider the price. Grinders range from very affordable to very expensive. Make sure you get the features you need without breaking the bank.
By taking these factors into account, you can easily find the best coffee grinder for your needs.
The Top 10 Coffee Accessories for Coffee Lovers
For the coffee connoisseur who has everything! Have you these accessories?
French Press: A classic coffee maker that allows you to brew a rich and flavorful cup of coffee.
Pour-Over Coffee Maker: A slow and hands-on method that produces a clean and bright cup of coffee.
Burr Grinder: Grinds coffee beans consistently and evenly, resulting in a better-tasting cup of coffee.
Milk Frother: Allows you to make your own frothed milk for lattes, cappuccinos, and other coffee drinks.
Coffee Scale: Helps you measure the precise amount of coffee and water for a perfect cup every time.
Travel Mug: Keeps your coffee hot and fresh on the go.
Coffee Storage Container: Keeps your coffee beans fresh and prevents them from going stale.
Coffee Tamper: Compresses the coffee grounds for a more even extraction when using an espresso machine.
Coffee Dripper: A reusable filter that can be used with a pour-over coffee maker for a waste-free option.
Coffee Roaster: Allows you to roast your own coffee beans for a truly personalized cup of coffee.
Note: These accessories can vary depending on personal preferences and coffee-making methods. It's always recommended to do research and experiment to find the accessories that work best for you.
Final thoughts
When choosing coffee accessories, it is important to consider the type of coffee you like, the budget you have, and the type of brewing method you prefer. There are many different options available, from inexpensive items like filters and coffee scoops to more expensive ones like grinders and espresso machines. No matter what you choose, having the right coffee accessories can make your coffee experience even more enjoyable.