"Grind your way to a perfect cup of coffee!"
Best Coffee Grinders – Reviews and Comparisons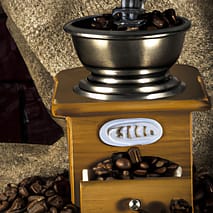 A coffee bean grinder is an essential tool for anyone who loves a good cup of coffee. It allows you to freshly grind your beans to the perfect consistency for your preferred brewing method. With the right grinder, you can achieve a consistent grind that will bring out the full flavor of your beans. Whether you're looking for a manual or electric grinder, there are a variety of options available to suit any budget or preference. From a basic blade grinder to a professional burr grinder, you can find the perfect grinder to make your coffee as delicious as possible.
The Best Coffee Bean Grinders for Home Use
When it comes to making the perfect cup of coffee, having the right coffee bean grinder can make all the difference. For those looking to make coffee at home, there are a variety of coffee bean grinders available, each with its own set of features designed to make the grinding process simple and efficient. To help you choose the best coffee grinder for your home, we've compiled a list of the top coffee grinder models available.
The Baratza Encore is one of the most popular burr grinders on the market, offering great performance and consistent grounds. The Baratza Encore offers 40 different grind settings, making it easy to find the perfect grind for your coffee. This grinder is also easy to use and clean, making it a great choice for those looking for a simple, yet effective grinder.
The Cuisinart DBM-8 Supreme Grind Automatic Burr Mill is another great option for home use. This grinder is designed to make quick work of grinding coffee beans, with 18 different grind settings and a removable grinding chamber for easy cleaning. This grinder also features a four to 18-cup slide dial, allowing you to select the amount of coffee grounds you need for each cup.
The Capresso Infinity is another popular model that features 16 different grind settings and a commercial-grade solid conical steel burr grinder. This grinder is designed to grind your coffee beans quickly and evenly, and also offers a timer that allows you to set the grinding time for each batch.
The KitchenAid Burr Grinder is a great choice for those looking for a durable, yet stylish grinder. This grinder offers 15 different grind settings and an adjustable top burr for fine-tuning the grind. The grinder is also easy to clean and comes with a built-in storage drawer for keeping your coffee beans fresh.
Finally, the Bodum Bistro Electric Burr Coffee Grinder is perfect for those looking for a simple, yet reliable grinder. This grinder offers 12 different grind settings and is easy to use and clean. Additionally, this grinder is designed to be quiet, making it ideal for those who don't want to disturb their neighbors.
These are just a few of the many great coffee bean grinders available for home use. With so many options available, it can be difficult to choose the best grinder for your needs. However, by considering the features and performance of each model, you can be sure to find the perfect grinder for your home.
How to Clean and Maintain Your Coffee Bean Grinder
Good coffee starts with freshly ground beans, and a coffee grinder is an essential tool for achieving the perfect grind. However, if your grinder isn't properly maintained, it can negatively affect the taste of your coffee. To ensure you are always getting the best flavor, it is important to keep your coffee grinder clean and well-maintained.
One of the most important things to do is to regularly clean your grinder. This can be done by unplugging the machine and using a brush to remove any grounds that may be stuck on the blades. For an even deeper clean, you can use a damp cloth to wipe down the inside of the grinder and remove any old or stale grounds.
Another key part of maintaining your grinder is to keep the burrs sharp. This is the part of the machine that grinds the beans, and if it is not sharp, it can affect the consistency of your grind. To sharpen the burrs, you can use a burr sharpening tool. This is a device that can be used to grind away any material that is stuck on the burrs and restore their sharpness.
Finally, it is also important to lubricate the grinder. This will help keep it running more smoothly and reduce the amount of friction on the blades. Using a food-safe lubricant, such as vegetable oil, will help keep your grinder in top condition.
By taking the time to regularly clean and maintain your coffee grinder, you can ensure that you are always getting the best flavor from your beans. Doing so will also help extend the life of your grinder, so you can enjoy fresh coffee for years to come.
What Type of Coffee Bean Grinder is Right for You?
When it comes to selecting the right coffee bean grinder for your needs, there is no one-size-fits-all solution. Depending on your preferences, budget, and brewing method, you will need to consider the different types of grinders available.
Blade grinders are the most economical option and are suitable for those who are just beginning to explore the world of coffee. These grinders use a spinning blade to cut the beans into small pieces, producing a fairly coarse grind that is suitable for French press, percolator, and some espresso machines. This type of grinder is simple to use, however, it may not provide a uniform grind size.
Burr grinders, on the other hand, are more expensive but produce a more uniform grind size. These grinders use two burrs that crush the beans between them, resulting in a consistent grind that can be adjusted to suit your desired brewing method. Burr grinders are ideal for those who want to bring out the full flavor of their coffee beans and are suitable for espresso, pour-over, and drip machines.
Finally, for those looking for the ultimate in convenience, electric grinders are the way to go. These grinders offer a range of settings that allow you to adjust the grind size and texture, making them suitable for any brewing method. However, electric grinders are usually more expensive than manual grinders and can be noisy.
Ultimately, the right coffee bean grinder for you will depend on your individual needs and preferences. Whether you prefer a simple blade grinder, a precise burr grinder, or a convenient electric grinder, there is sure to be a model that suits your needs.
Tips to Achieve the Perfect Grind with Your Coffee Bean Grinder
1. Start with clean equipment. Before you begin grinding, make sure your equipment is clean and free of any residue from previous uses.
Choose the right size grind. Different brewing methods require different grind sizes. Make sure you are choosing the right size for your desired brew.
Use a consistent pace. If you grind too fast, you may create inconsistent grinds. If you're grinding manually, try to use a consistent speed and rhythm.
Measure your grinds. If you're using pre-ground coffee, make sure to measure it accurately and consistently.
Don't over-grind. Over-grinding can make your coffee bitter and unpleasant. Don't grind too fine and don't grind for too long.
Store your grinds properly. Coffee grinds can go stale quickly. Store them in an airtight container in a cool, dry place.
Experiment. Every person has different taste preferences. Try different grinds and different brewing methods to find the perfect one for you.
The Science Behind Coffee Bean Grinders: What Makes them Work?
Coffee bean grinders are one of the most important tools in the coffee brewing process, allowing coffee lovers to extract the best flavor from their favorite beans. But what is the science behind these devices? How do they work?
At the heart of every coffee grinder is its burr mill, which is a pair of metal or ceramic discs that rotate around each other. The discs are lined with grooves or "teeth" that slice the beans into small pieces and then crush them into a consistent grind size. The burr mill is adjustable, allowing you to select the size of the grinds you want—from coarse for French press to fine for espresso.
The burr mill is powered by an electric motor, which rotates the burrs at a set speed. This speed is crucial to the grinding process. If it is too slow, the beans won't be ground evenly, resulting in inconsistent grind size. If it is too fast, the burrs will heat up, which can cause the beans to lose their flavor and aroma.
The grinding process also depends on the size of the burrs. Larger burrs will grind more beans at a time, but they won't create as fine of a grind as smaller burrs. Smaller burrs will grind fewer beans at a time, but they will create a finer, more consistent grind.
Finally, the shape of the burrs is also important. Conical burrs are the most common, as their shape allows for a more even grind size, while flat burrs can create uneven grinds.
The science behind coffee bean grinders is quite fascinating. By understanding the basics of their construction and operation, you can get the most out of your coffee beans and enjoy the perfect cup of coffee every time.
Do you need a coffee grinder?
In conclusion, a coffee bean grinder is a must-have tool for any coffee enthusiast. It's easy to use, efficient and can help you make the perfect cup of coffee every time. With its many features, it can help you grind your own freshly roasted beans for the perfect cup every time. Whether you're a beginner or an experienced coffee connoisseur, you'll love having a coffee bean grinder in your kitchen.