Coffee has evolved from a simple beverage to a cultural phenomenon, and with the rise of coffee subscription services, the experience of enjoying a cup of coffee has reached new heights.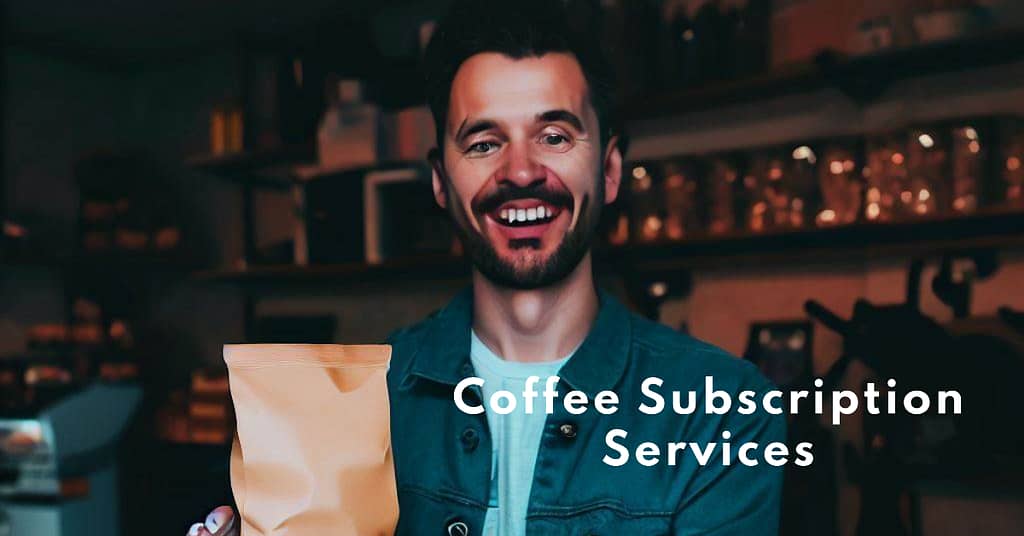 What is a Coffee Subscription Service?
Discover the essence of coffee subscription services, which offer personalized coffee experiences delivered straight to your door. These subscriptions cater to individual preferences, ensuring that every cup of coffee brewed is a delightful journey of flavors.
The Art of Coffee Selection
At the core of coffee subscription services lies the meticulous curation of coffee beans. Roasters and experts carefully select the finest beans from around the world, each with its own unique flavor profile, taking subscribers on a journey of exploration.
Crafting the Perfect Roast
The roasting process, an art in itself, significantly influences the coffee's flavor. Explore the nuances of light, medium, and dark roasts, each imparting distinct characteristics and elevating the overall coffee experience.
Personalized Frequency and Quantity
Flexibility is key with coffee subscriptions, allowing subscribers to tailor delivery frequency and quantity to their preferences. From daily enthusiasts to occasional indulgers, everyone can find their perfect match.
Unboxing the Coffee Experience
Receiving a coffee subscription package is a delightful experience in itself. Roasters take pride in crafting unique and eco-friendly packaging designs, sometimes including pleasant surprises or additional coffee-related treats.
Tasting Notes and Flavor Profiles
Gain a deeper appreciation for the coffee you brew with detailed tasting notes provided by coffee subscriptions. Explore the aromatic profiles, flavors, acidity, body, and aftertaste, unraveling the complexities of each cup.
Exploring Variety with Blends and Single Origins
Coffee subscriptions celebrate diversity by offering a wide array of blends and single-origin options. Blends are artfully crafted combinations of different beans, creating harmonious flavor symphonies. On the other hand, single origins showcase the unique terroir of a particular region, highlighting its distinct taste profile.
Sustainability and Ethical Sourcing
In an era where ethical consumerism is gaining momentum, coffee subscriptions embrace sustainability and fair trade practices. Roasters actively support environmentally-friendly initiatives and ensure that their partnerships with coffee farmers are mutually beneficial.
Customer Reviews and Community Engagement
Coffee subscriptions foster a sense of community among coffee enthusiasts. Subscribers often share their brewing experiences and offer feedback, creating a vibrant online space for coffee discussions. Roasters, in turn, engage with their customers, providing valuable brewing tips and recommendations.
The Convenience Factor
Coffee subscription services eliminate the need for coffee shopping trips. With a seamless online platform, subscribers can manage their preferences, delivery schedules, and even skip or pause their subscriptions as needed, all from the comfort of their homes.
Managing Subscriptions and Pausing Options
Flexibility is a hallmark of coffee subscriptions. Subscribers have the freedom to modify their subscription details at any time. Whether you're going on vacation or simply want to adjust your delivery frequency, managing your subscription is hassle-free.
Cost Analysis: Are Coffee Subscriptions Worth It?
The cost-effectiveness of coffee subscriptions is a common consideration. While the upfront price may seem higher than store-bought coffee, a closer look reveals potential savings, especially when factoring in the premium quality and personalized experience.
Partnering with Local Roasters
Coffee subscription services provide an opportunity to support local roasters and artisanal coffee businesses. By partnering with local roasters, subscribers contribute to the growth of small-scale coffee enterprises and gain access to exclusive regional offerings.
The Future of Coffee Subscription Services
As coffee subscription services continue to evolve, technological advancements will likely play a significant role. The integration of smart platforms, artificial intelligence, and IoT devices may streamline the subscription process even further, ensuring an unparalleled coffee experience globally. However, as the industry expands, it will face challenges related to supply chain management, sustainability, and maintaining the essence of craftsmanship.
Choosing a Subscription Service
Choosing the right coffee subscription service for your taste can be a daunting task, given the variety of options available. Here are some tips to help you make an informed decision:
Consider your taste preferences: Think about the type of coffee you enjoy, such as light or dark roasts, single-origin or blends, and flavors. Look for subscription services that offer a variety of options that align with your preferences.
Check the roasters: Some subscription services work with a single roaster, while others offer coffee from multiple roasters. If you have a favorite roaster, look for a subscription that works with them. Alternatively, if you want to try coffee from different roasters, look for a subscription that offers a variety of options.
Look for customization options: Some subscription services allow you to customize your subscription based on your taste preferences. For example, you can choose the roast level, flavor profile, and brewing method. This can help ensure that you receive coffee that you enjoy.
Consider the price: Subscription services vary in price, so consider your budget when choosing a service. Look for a subscription that offers good value for money and fits within your budget.
Read reviews: Look for reviews of the subscription services you are considering. This can help you get an idea of the quality of the coffee, the level of customer service, and the overall experience.
By considering these factors, you can choose a coffee subscription service that aligns with your taste preferences and budget.
Recommended Coffee Subscription Services
| Service | Range of Products | Price | Delivery Costs |
| --- | --- | --- | --- |
| Atlas Coffee Club | Single-origin coffee from various countries | Starting at $7 | Free shipping |
| Trade Coffee | 450+ unique craft coffees from indie roasters | $17-$22 per bag | $4.95 shipping |
| Bean Box | Curated blends and single-origin coffee | Starting at $0.55/cup | Free shipping |
| MistoBox | 600+ coffees from various roasters | Starting at $12.71/bag | Shipping not incl. |
| Blue Bottle Coffee | Blends, espresso, instant, and single-origin | Starting at $13/bag | Free shipping |
| Craft Coffee | Fresh-roasted blends | Starting at $7.99/bag | Free US shipping |
| Peace Coffee | High-quality coffee | Check website for info | Not specified |
| Driftaway Personalized Coffee | Personalized coffee selection | Use code for discount | Not specified |
| Lifeboost Coffee | Coffee for sensitive stomachs | Subscribe and save | Not specified |
| Intelligentsia | Single-origin and blend coffees | Check website for info | Not specified |
Please note that the prices and delivery costs mentioned above are subject to change. It's always a good idea to visit the respective websites for the most up-to-date information.
In conclusion, coffee subscription services have elevated the way we experience and enjoy our daily brew. With a meticulous focus on quality, sustainability, and customer engagement, these services offer a gateway to the diverse and enchanting world of coffee. Whether you're a seasoned coffee enthusiast or a curious beginner, a coffee subscription is an invitation to savor the artistry behind each cup and indulge in the coffee culture like never before. Cheers to a new era of coffee appreciation!