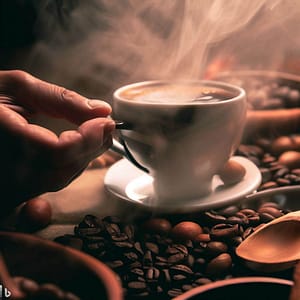 Coffee is more than just a morning pick-me-up or a social ritual, it is a sensory experience that delights and fascinates enthusiasts worldwide. From the moment you grind those fresh beans to the tantalizing fragrance that fills the air, coffee lovers know that the complexities of coffee flavors are worth unraveling. With over 850 volatile compounds contributing to its aroma and flavor, coffee offers a rich tapestry of sensory experiences.
The Language of Aromas
When we speak of coffee flavors, we often refer to its aromas. The olfactory system plays a crucial role in our perception of taste, and coffee is no exception. The aroma of coffee is a symphony of carefully balanced compounds that have developed during the roasting process. It is believed that there are over 1,000 aromatic compounds in coffee, each contributing to its unique flavor profile.
To truly appreciate the richness of coffee flavors, it is essential to understand the language of aromas. Some common aromas found in coffee include floral, fruity, nutty, chocolatey, spicy, and earthy notes. These aromas can be subtle or bold, and their combinations lead to a wide range of flavor experiences.
The Chemistry of Coffee Aromas
The aroma of coffee is a result of a complex collection of chemical compounds. Some of the most important compounds include carbonyl, sulfur alicyclic aromatic benzenoid, and heterocyclic compounds. For example, 2-furfurylthiol, a sulfur-containing compound, contributes to the coffee's aroma. The majority of these compounds are formed during the roasting process, which transforms the green coffee beans into the aromatic and flavorful beans we know and love.
Terroir and Coffee Flavors
Terroir, the combination of climate, geography, and soil, plays a significant role in shaping the flavors of coffee. Beans grown in different regions, such as Guatemala, Java, or Yemen, have distinct flavor profiles due to differences in climate, soil, and other factors. Altitude also affects coffee flavor, with beans grown at higher elevations generally having a more complex and nuanced flavor profile.
The Journey of Coffee Flavors
The journey of unraveling the aromas and flavors of coffee begins with the selection of the beans. Different coffee beans, such as Arabica and Robusta, have distinct flavor profiles. Arabica beans are known for their delicate flavors, often exhibiting floral and fruity notes. On the other hand, Robusta beans are bolder and more robust, with earthy and nutty undertones.
Next comes the roasting process, which transforms the raw green beans into the aromatic brown ones we are familiar with. Roasting is an art in itself; it requires a balance of time and temperature to bring out the desired flavors. Lighter roasts often maintain more of the bean's original characteristics, while darker roasts develop richer, smokier flavors.
After roasting, it is time to grind the coffee beans. The grind size influences the extraction process, determining the rate at which water extracts the flavors from the coffee grounds. Finer grinds often result in stronger, more intense brews, while coarser grinds offer a milder taste.
Extraction Methods and Brewing Techniques
Once the coffee beans are ground, it's time to choose the extraction method and brewing technique. These factors significantly impact the final flavor of the coffee. Whether you prefer a classic drip brew, a French press, pour-over, or espresso, each method brings out unique characteristics.
Drip brewing, commonly used in automatic coffee machines, offers a balanced and smooth cup of coffee. French press, on the other hand, provides a full-bodied and robust brew with more oils and sediment present. Pour-over brewing allows for precise control over the extraction process, resulting in a clean and nuanced flavor. Lastly, espresso brewing offers a concentrated and rich flavor profile, with the ability to highlight specific aromatic nuances.
The Importance of Water Quality
While we often focus on the coffee beans and brewing techniques, water quality plays a crucial role in the flavor of coffee. The chemical composition and mineral content of the water can impact the extraction and overall taste. It is recommended to use filtered water with balanced mineral content to achieve the best results.
The Art of Tasting and Pairing
To fully appreciate the richness of coffee flavors, it's essential to engage in the art of tasting. Take a moment to smell the aroma of the freshly brewed coffee, noting the various aromas that emerge. Then, take a sip and let the flavors dance on your palate. Pay attention to the taste notes, body, acidity, and aftertaste.
Pairing coffee with complementary flavors can elevate the tasting experience. Chocolate, nuts, fruits, and spices all have unique interactions with coffee. Experiment with different pairings to discover delightful flavor combinations.
The Coffee Taster's Flavor Wheel
The Coffee Taster's Flavor Wheel, developed by the Specialty Coffee Association (SCA), is a tool used by professionals and enthusiasts alike to identify and describe the flavors and aromas found in coffee. The wheel is designed to start at the center with general taste descriptors and become more specific as you move outward. By familiarizing yourself with the flavors in coffee, you can enhance your coffee-drinking experience and better appreciate the diversity and complexity of this beloved beverage.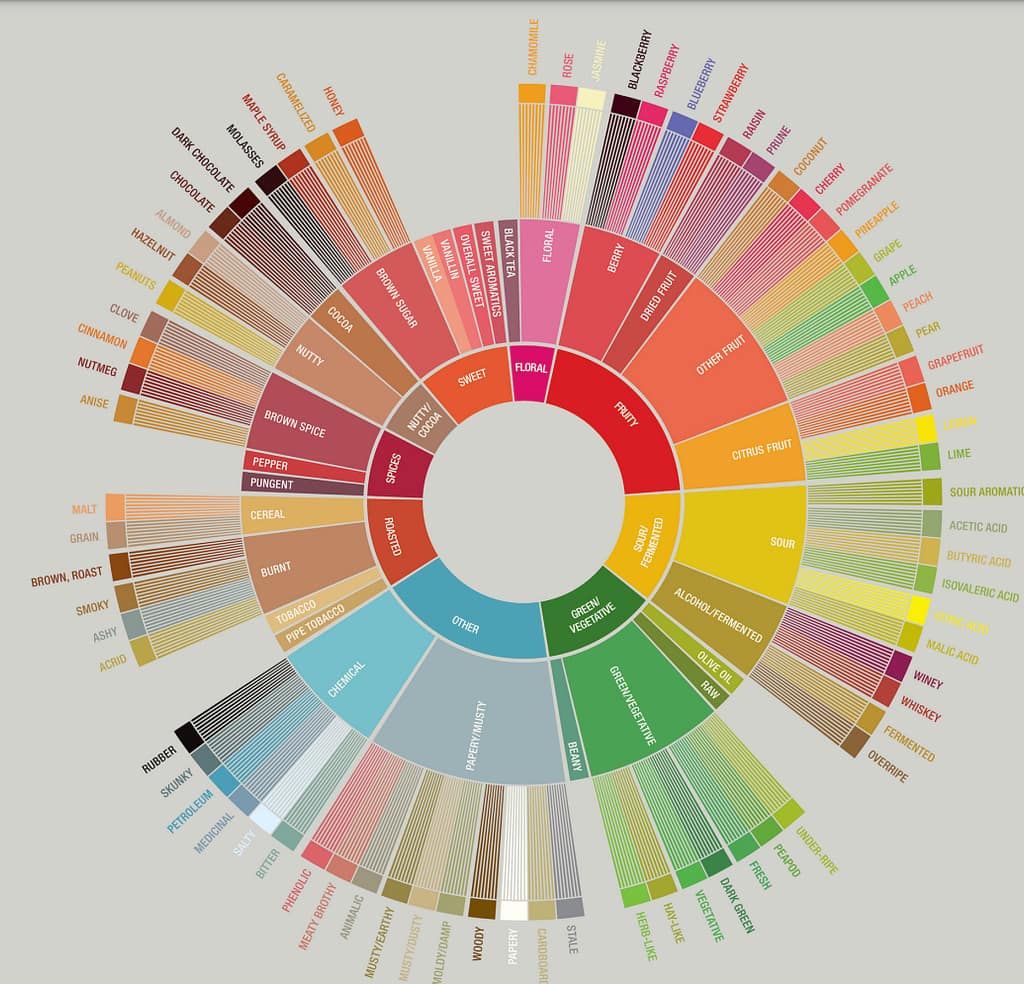 Tasting Coffee Like a Pro
To taste coffee like a pro, it's essential to understand the factors that influence its flavor and aroma, as well as practice regularly on different coffee varieties. Some tips for tasting coffee include using your nose, evaluating each sip, and hosting mini tastings to compare different coffees. By developing a catalog of flavor memories and using tools like the Coffee Taster's Flavor Wheel, you can unlock the rich world of coffee flavors and aromas.
In Conclusion
Unraveling the aromas and flavors of coffee is a rewarding journey that offers a deeper appreciation for this beloved beverage. From understanding the language of aromas to exploring different brewing techniques, there are endless possibilities to discover and enjoy the richness of coffee flavors. So, grab your favorite coffee beans, embark on this sensory adventure, and savor every sip. Cheers to coffee enthusiasts worldwide!
Frequently Asked Questions about Coffee Flavors
What are coffee flavors?
Coffee flavors refer to the distinct taste profiles and characteristics found in different types of coffee beans, such as fruity, chocolatey, nutty, or floral notes.
How do coffee flavors develop?
Coffee flavors develop through various factors, including the coffee bean's origin, growing conditions, processing methods, roasting techniques, and brewing methods.
Can coffee flavors be enhanced?
Yes, coffee flavors can be enhanced through precise brewing parameters, such as water temperature, extraction time, grind size, and using freshly roasted and properly stored coffee beans.